It's about that time of year. I don't know about you, but I'm already having a little holiday anxiety. I have no idea how my actual gift list is going to shake out this year (sorry, friends & family reading this post), but I'm already making my grocery shopping list for edible goodies. Being a foodie/dietitian, I love to give and receive food. You know what they say about the way to a man's heart? Let's be honest – that saying applies to everyone, especially me.
I really debated on whether I should share this recipe with you good people. I mean, I'm on a several-year winning streak for giving these goodies as gifts with rave reviews in return, so I shouldn't be giving away the secret sauce. But I'm gonna do it, because I like you.
I'm also doing it because nuts are perhaps one of the better holiday snacking options from a nutritional perspective. You've heard it before I'm sure – almonds, walnuts and pecans provide 2-3g of fiber per serving, they contain a little bit of protein, and a good mix of better-for-you fats that altogether contribute to satiety. You know, that little internal voice that tells you "you're full". That is the good voice in your head, listen to it – but ignore the others, they are up to no good I'm sure.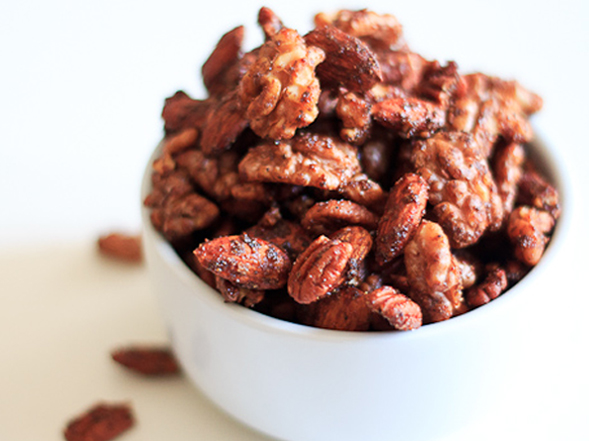 Do you want to know another secret about this recipe? It was given to me over 5 years ago by the good people at McCormick Spices when I worked for a particular supermarket chain. The bummer is, I can't link to the original recipe post on McCormick's website as they have now taken it down. But they have a very similar Pumpkin Spiced Nut recipe on their website, in addition to a host of other great recipes, that I think you should go try out. Pro Tip: When you don't know what to make for dinner, search McCormick's recipe library. The spice people know how to cook for real life. Their recipes won't fail you.
So give this recipe a shot this holiday season. Package in a fancy tin or cute little Santa bag with a ribbon for an adorable but delicious hostess gift. Or make it for yourself and hide it, I won't tell. But Santa knows who is naughty and who is nice. 
Nutrition Information per Serving (Nutrihand recipe analysis tool used to calculate this estimate)
180 Calories; 16g Fat; 65mg Sodium; 8g Total Carbohydrates; 2g Fiber; 4g Protein
Ingredients
1/4 cup sugar
1 1/2 teaspoons Cinnamon, Ground
1/8 teaspoon Red Pepper, Ground
1/4 teaspoon salt
1 egg white
2 cups walnut halves (or pecans, or almonds, or a mix of all 3)
Instructions
Preheat oven to 250°F. Mix sugar, cinnamon, red pepper and salt in small bowl. Set aside.
Beat egg white in medium bowl until foamy. Add walnuts; toss to coat. Add spice mixture; toss to coat nuts evenly. Spread nuts in single layer on greased baking sheet.
Bake 1 hour, stirring nuts after 30 minutes. Cool slightly and break apart. Cool completely and store in airtight container up to 2 weeks.
http://nutritionguru.com/cinnamon-spiced-nuts/
Disclosure – I did not receive any sponsorship or incentives for this post. The views, opinions and suggestions here are entirely my own.
You Might Also Like