Disclosure – This post is sponsored by Sweet Loren's® All Natural Cookie Dough. I only partner with food brands that I believe are worthwhile, and that offer a strong nutritional proposition for their respective food category. Sweet Loren's meets both my personal and professional approval. Thank you to Sweet Loren's® for supporting Nutrition Guru!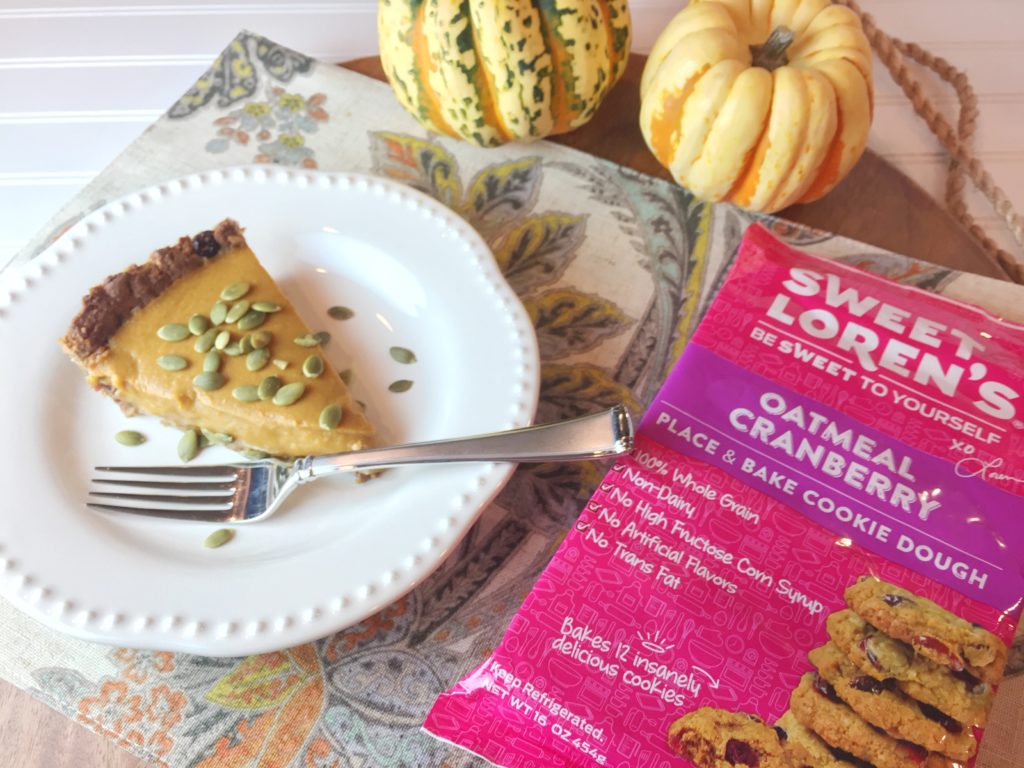 Spice up the holidays with a fun and easy twist on a traditional favorite this year! What would you say if I told you that you could just use a store bought, ready-to-cook cookie dough in place of a pastry crust for your pumpkin pie? An Oatmeal Cranberry Cookie Dough crust at that? I don't know about you, but sign.me.up.now. Anything pumpkin + anything cranberry just screams festive deliciousness to me.
But this isn't just a cookie dough, y'all. This is Sweet Loren's. 100% Whole Grain ready-to-eat cookie dough that is non-dairy, and contains no artificial flavors, no trans fats, and no high fructose corn syrup. And, most importantly, it's 100% delicious. Seriously, this is the highest quality store-bought cookie dough that I have tried, and quite possibly the yummiest. For quality control purposes, I made a batch (maybe two) of the Oatmeal Cranberry Cookies, and they are fool-proof. And they didn't sponsor me enough to say that stuff – I really mean it. 
While these whole grain cookies are impressive, as a dietitian I must remind you that they are still cookies! Even though they have an impressive whole grain content and a few free-from claims, they still contain calories, fat and sugar, just like any other dessert. So portion control with these cookies still matters when it comes to your daily caloric intake. 
But back to the festivities. It is the holiday season, and dessert is going to happen. So why not have some fun? As I mentioned earlier, you can simply replace the pasty crust of your fave pumpkin pie recipe with a package of Oatmeal Cranberry cookies pressed into a pie plate (follow cooking directions for crust below in recipe). Voila. So easy.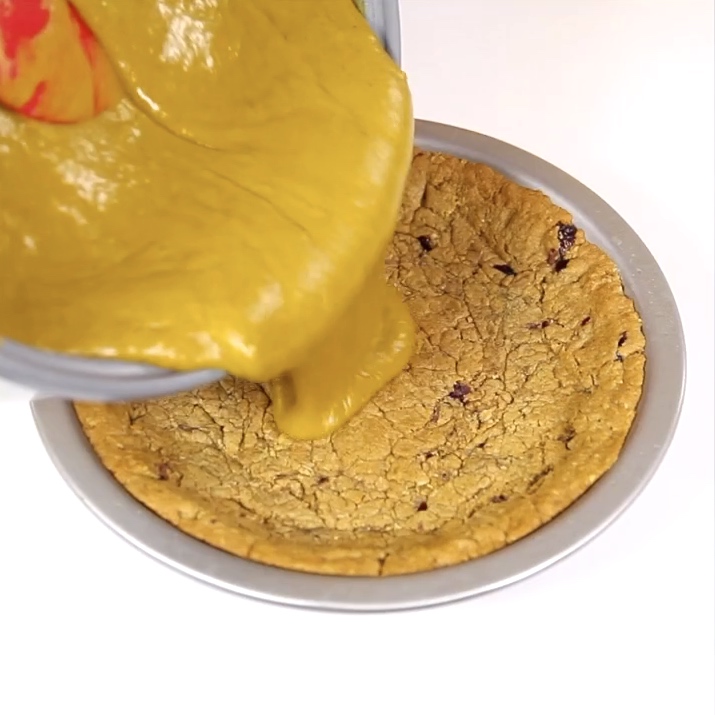 Or, if you want to try a whole new Pumpkin Pie recipe that is dairy free – whether you are avoiding dairy, allergic, or simply curious – check out Sweet Loren's recipe below for a "Perfect Pumpkin Pie".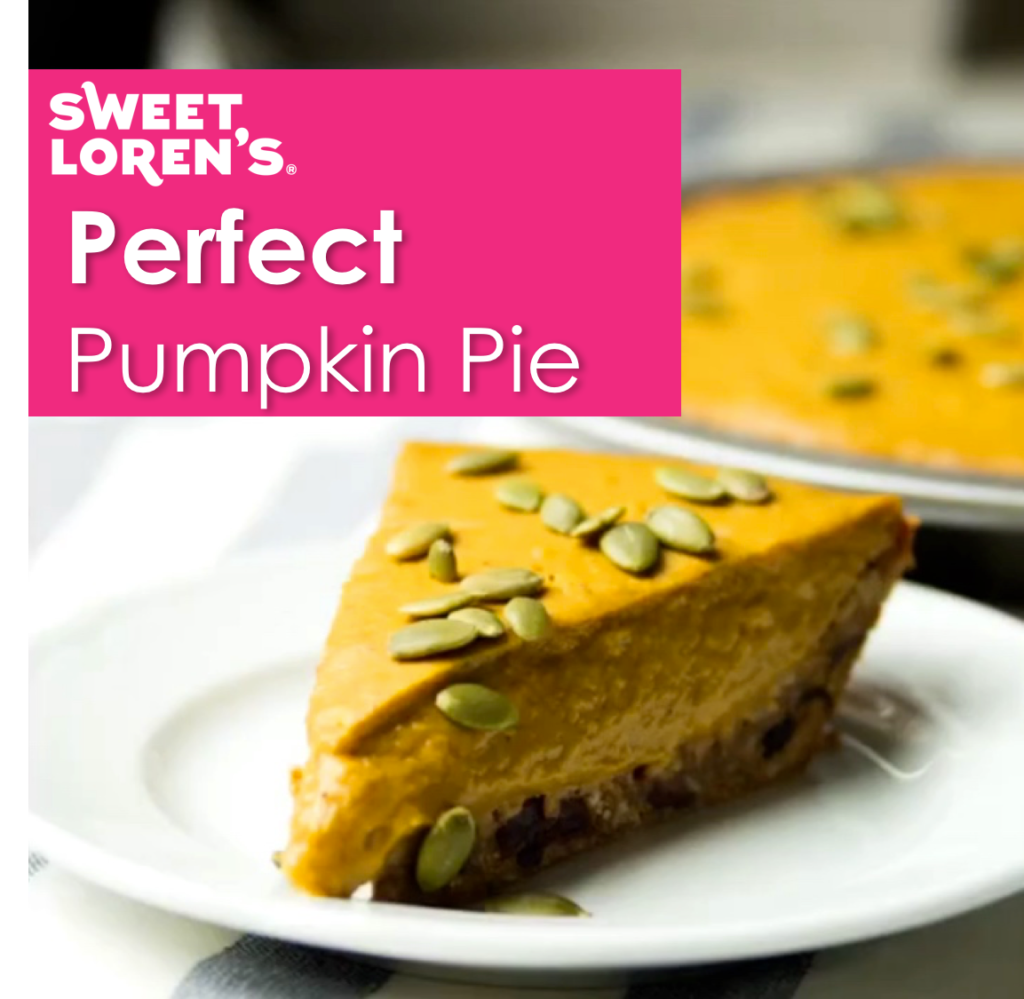 Sweet Loren's Perfect Pumpkin Pie (Non-Dairy)
Ingredients
1 package of Sweet Loren's Oatmeal Cranberry Cookie Dough
1 1/2 cups coconut milk
1 15oz can of pure pumpkin puree
1/3 cup maple syrup
3 1/2 Tablespoons tapioca flour
3/4 teaspoon pumpkin pie spice
1/4 sea salt
1 teaspoon vanilla
Instructions
Grease a 9" pie pan. Press Oatmeal Cranberry cookie dough into pan to cover bottom completely and up the sides.
Bake at 300F for 20-25 minutes until golden brown. Remove from oven and let cool for about 5 minutes, then press down the dough with the back of a spoon so that it's compact in the pie pan.
Heat the remaining ingredients in a skillet over medium heat until it begins to bubble gently, stir until mixture thickens, about 3 minutes. Once thick, pour mixture into the prepared cookie dough crust. Refrigerate for a few hours or overnight until the filling has set.
http://nutritionguru.com/pumpkin-pie-oatmeal-cranberry-crust/
So give your crust a swap this year, and let me know what you think in the comments below!
Wishing you and your family the HAPPIEST Thanksgiving ever!
-Monica
You Might Also Like