What is better than waking up to a fresh pot of coffee in the morning? Nothing. But a close runner up is having a tasty, healthy breakfast made ahead of time, ready to eat, and ready to travel if need be. These overnight oats fit the bill, and are seriously easy to make!
The most important feature of these oats is that they are tasty. But being a dietitian, I also have to call out that one serving of this goodness is under 300 calories, but packs 7g of fiber and 12g of protein, which is a good mix to help you fill full for the morning hours to come.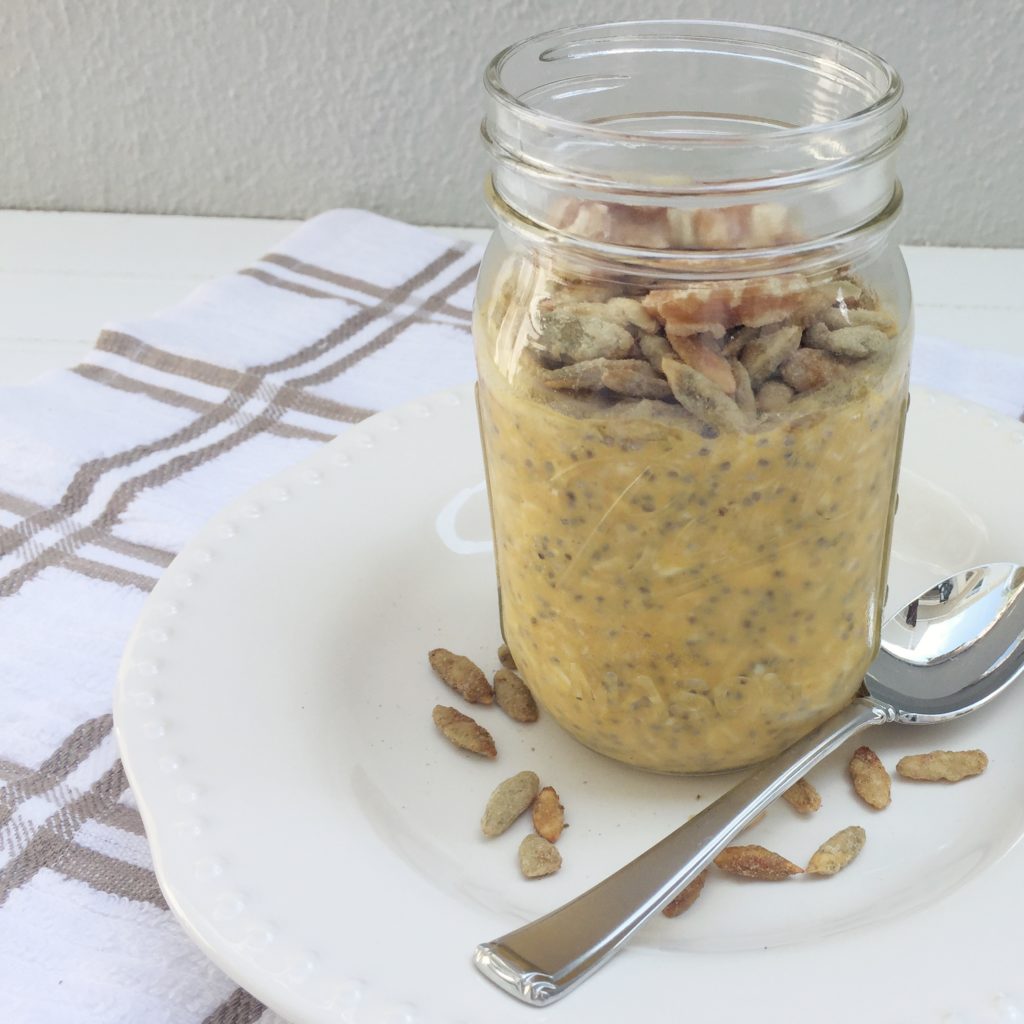 And to help keep the sugar in check without sacrificing flavor in this recipe, I'm recommending the use of Truvia® Nectar to sweeten without unnecessary calories or excess sugar. This nectar works well as a substitute for honey, and is actually made with a mixture of honey, sugar, water and stevia extract. It contains 10 calories and 2 grams of sugar per standard 1/2 teaspoon serving, compared to a standard 1 tablespoon serving of honey, which contains 64 calories and 17 grams of sugar. This nectar tastes great to me, but a little bit goes a long way – measure to the recipe, and adjust as needed for your desired sweetness.
But if you are feeling frisky and want to live on the sugary edge of life, you can use honey or maple syrup to taste in place of the Truvia® Nectar. Just recognize though – the calories are gonna go up along with the sugar content. And most of us really don't need more of those things in life. I'm just saying…
Enjoy!
Pumpkin Spice Chia Seed Overnight Oats
Nutrition Information per Serving (calculated with Nutrihand nutrition analysis, including walnuts)
250 Calories; 9g Fat; 47mg Sodium; 32g Total Carbohyrdates; 7g Fiber; 10g Sugar; 12g Protein
Ingredients
1 cup dry old fashioned oats
1 cup canned pumpkin
1 cup skim milk
1 container (5.3 oz) Greek nonfat yogurt (vanilla or pumpkin spice flavor)
4 tablespoons chia seeds
1 teaspoon pumpkin pie spice
1 teaspoon vanilla extract
2 teaspoons Truvia Nectar
1/4 cup chopped walnuts (optional)
Instructions
Mix all ingredients together well in one large bowl.
Divide mixture equally between 4 mason jars. Seal jars and refrigerate overnight (at least 6 hours).
Top with chopped walnuts, & serve!
http://nutritionguru.com/overnightoats-pumpkinspice/
Disclosure – No sponsorship or incentives were provided for this post. The opinions expressed are entirely my own. 
You Might Also Like